Services
A holiday at the Hotel International on the Velvet Beach in Senigallia guarantees essential services for a memorable stay. This is thanks to our family management, courtesy and hospitality as well as our private beach, swimming pool and location, close to the centre of Senigallia. 
Moreover, we are right in front of the sea and we offer special services if you are travelling with children.

Discover all that awaits you at the Hotel International!
Private, exclusive beach with plenty of space between beach umbrellas, also equipped with: beach volleyball, bowling alley, table tennis and table soccer.
Ipanema sunbeds for a perfect tan (on the bath dryer) or by the sea
Restaurant where you can taste the ancient flavours of traditional Marche cuisine, with different dishes offered daily. Fish dishes every day.
Internal Bar
Private swimming pool with hydrobike and solarium area
Bikes available to move freely around the promenade
Concierge service with a 24-hour attendant
Free evening shuttle service to the centre of Senigallia

Elevator 
Easily accessible: the railway station is 900m. and the motorway exit 2500m.
For children:
On the beach, playground for our younger guests
Table soccer and table tennis
Restaurant service with dishes adapted to their dietary needs
Highchairs available in the dining room as well as a changing table in the room (upon request)
Strollers provided by the hotel for the duration of the stay on an exclusive basis.
Babysitting service at lunch and dinner (from 12 june to 28 august)
Anti-fall rails in room.
Restaurant
We at Hotel International love to pamper you with regional cuisine, typical and authentic of our area.
You will find fresh pasta and fish (or meat if you prefer!) menus each day. We prepare many desserts, starting with breakfast in the morning. Apple pie, coconut cake and the most popular homemade desserts.
Our meals are always accompanied by a large buffet of fresh and cooked vegetables. We also have a drinks dispenser, from water to wine, and you can help yourself whenever you like!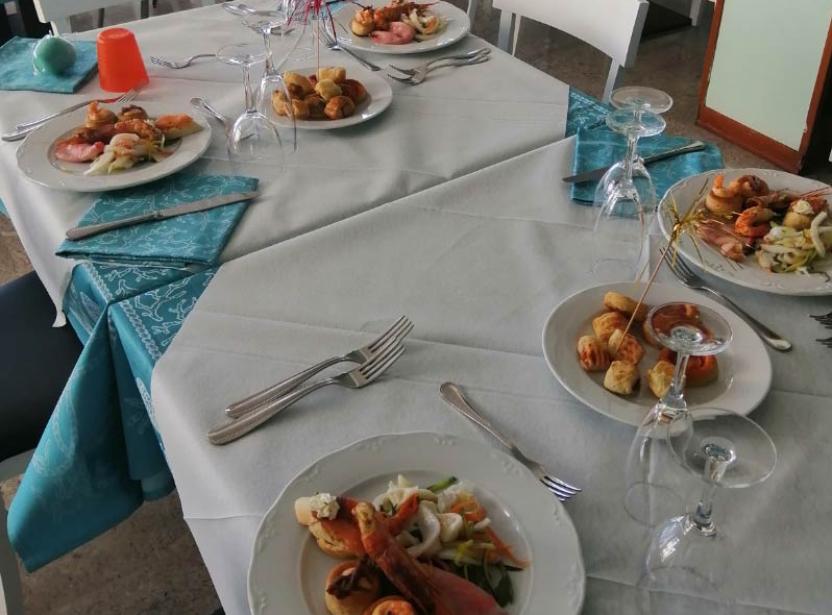 Food intolerance
We are always available to prepare ad hoc meals if you suffer from any dietary disorder or intolerance. Let us know what you need and we will be happy to meet your requirements.

Choose the holiday formula you prefer!
Our watchword is freedom: you can choose Bed & Breakfast service, enjoy our breakfast and try a different restaurant each day. We are located in a very convenient area: you can reach many restaurants and pizzerias on foot!
Or, if you want to stay with us also for lunch and/or dinner, you can choose the Half Board or Full Board service.